Ofis Pier
Benefits of Using a Meeting Room

Internet, Flipchart, blackboard and pens plus notepad and pens for the participants.

Phone with external speaker function

Teleconferencing and video conferencing facilities.

Catering Service with water, tea and coffee service.
By using Ofis Pier meeting rooms, you can reduce your meeting costs only based on the time you use and the number of people. You only need to let us know the time of the meeting you want, the time you want to use and the number of people you will meet with. You can make your meetings, business meetings and presentations more effective and efficient in our specially designed meeting rooms and board rooms. You can use the Office Pier executive meeting rooms for an hour or a day, as much as you need, and you can benefit from all kinds of technical facilities and services while you use them.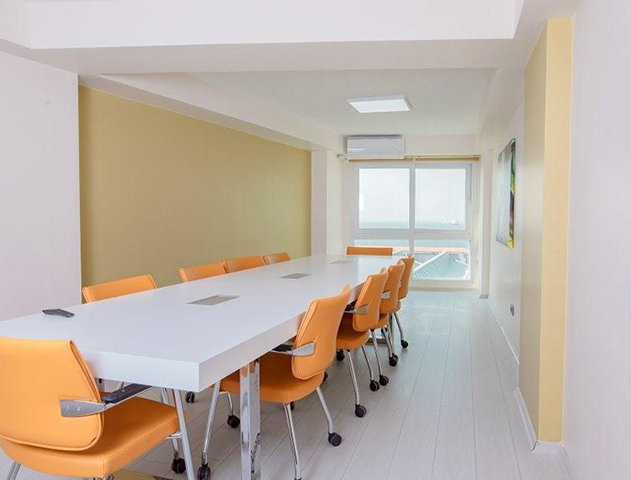 Ofis Pier toplantı salonlarını kullanarak toplantı maliyetlerinizi yalnızca kullandığınız süre ve kişi sayısına bağlı olarak düşürebilirsiniz. Bize yalnızca istediğiniz toplantının zamanını, kullanmak istediğiniz süreyi ve toplantı yapacağınız kişi sayısını bildirmeniz yeterli olacaktır. Toplantılarınızı, iş görüşmelerinizi, ve sunumlarınızı özel olarak tasarlanmış toplantı odalarımızda ve yönetim kurulu odalarımızda daha etkili ve verimli hale getirebilirsiniz. Ofis Pier yönetici toplantı odalarını bir saat veya bir gün, ihtiyacınız olduğu kadar kullanabilir, kullandığınız sürede her türlü teknik olanak ve hizmetten yararlanabilirsiniz.


Toplantı Odası kullanmanın size sağlayacağı faydalar * İnternet ,Flipchart, yazı tahtası ve kalemlerine ilaveten katılımcılar için not defteri ve kalemler.
* Harici hoparlör fonksiyonu olan telefon
* Telekonferans ve video konferans olanakları.
* Su, çay ve kahve servisi ile Catering Servis olanağı.
Fast And Uninterrupted Internet